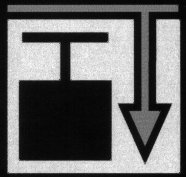 Think or Stink

..consistency
...normalacy
...apathy
...malignacy
?Recognize this vicious circle? Most people don't; they are too busy trying to keep it going.
It is a sad state of affairs that has caused a few of the wretched to organize The Darklight Group: a covert, multinational amalgam whose actions continue to rock foundations and standardizations worldwide.
We are on the outside, and we know it. This is no longer just a game of trivial pursuits, flashy fashions, or designer drugs, but a battle in which the casualities may be our very souls. The arsenal is stocked with creativity and fueled by passion. There are few allies in a skirmish that challenges rules, questions authority, and spits in the face of constipated cerebrums everywhere.
Indeed, we, as all others before us, are living at the best and the worst of times.
Meet the Team
---
The founding members of the Darklight Group
sales
+
marketing =
Joe Gorbachev

survelliance
+
electronic counter
measures =
Tomi Shunga

research
+
development =
Rudolf Buchoiz

trends
+
progressions =
Marie France
information
+
retrival =
Susan Quartzhead

internet
+
computer manipulation =
Samual Parker

performance
+
transportation =
Chrystal Letters
---
Projects
1997

ICED-- a docudrama about the effects of Chrystal Methamphetamine.
some pictures || cast picture
A Fair Assessment-- Feature length educational drama on bilingual assessment in the classroom. Banned from cablecast.

ACCESS-- a docudrama about making movies
some pictures
---
1990

| | |
| --- | --- |
| Recycle Rubber-- project and demonstrate Bad Art. Contemporary Art Museum, HNA Building, Honolulu | DLG Beach Players: Crisis in Waikiki [a dramatization] Kuhio Beach, Honolulu |
| Oh Wilbur: The Movie World Premiere, Movie Museum, Honolulu | ARrTCRIME Propaganda Campus Center Gallery, UH Manoa, Honolulu |
| Darklight Group Infospective Sprctrum Hawaii, PBS [KHET] - censored, not aired | Angry Young Man Banned MTV music video World Premiere, Movie Museum, Honolulu |
---
1989

| | |
| --- | --- |
| Black Napp-an epic film World Premiere, Movie Museum, Honolulu + UC Long Beach California | DLG Players: CIA Crisis at Campus Center, UH Manoa [a dramatization] |
| Force Fed The Birth of the Darklight Tacticals | Oh, Wilbur Mythic Version & Mystic Version Art or Art? and exhibition of graduate art UH Manoa, Honolulu |
| Chairman's Choice Exhibit, Commons Gallery, UH Manoa, Honolulu. | Darklight Boutique--assorted DLG merchandise |
---
1988

| | |
| --- | --- |
| The Exciter MK IV-commercial series | Carnival--No Spilled Blood Campus Center Ballroom, Honolulu |
| Pseudotonics at Club Hubba Hubba Hotel Street Honolulu | |
---